Modern day smartphones are overtaking desktop's dominance as the primary gateway to the internet and media consumption. Most of the users prefer smartphones over desktop computers, and Smartphones become their most important device as an alternative to a personal computer, especially with the rise of cloud computing. It looks like that the only reason to use a computer is at work, but not for long. We hold a lot of powerful devices in our hands than we have ever before, and our data is already there. So it is only natural to use our devices as desktop computers whenever we need to be productive. Simply plug your smartphone into a docking station that is also connected to a large screen and peripherals, to get an enhanced productivity experience than what's possible with your smartphone's tiny screen. just like the Windows 10 Continuum feature.
So until Mixed-Reality (MR) devices (glasses and contact lenses) will replace our smartphones and computers, let's see what's gonna happen in the near future.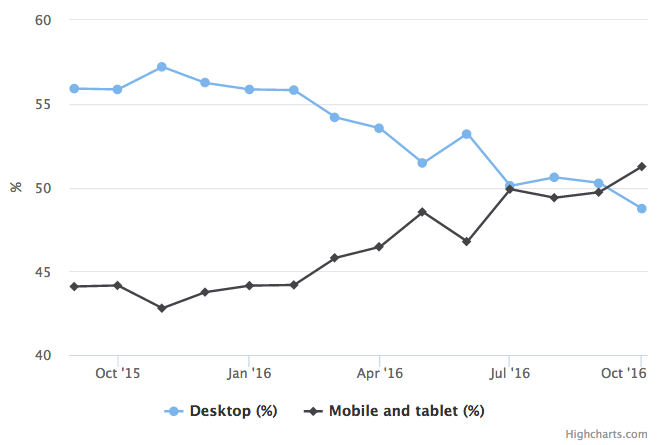 Design solves problems
Today more than ever, we can realize and even predict that desktop computers won't be around forever, even at your office. Hence, most of us have a powerful device in our pockets, and it is already productive and makes our lives easier, even at work! So nowadays smartphones are powerful enough to run productive and creative applications, and most of today's operating systems are already designed to scale and fit (responsive design) all screen sizes out there: Smartphones, Tablets, Computers, Consoles, TVs, IoT devices and MR/AR/VR devices.
Hardware is not a barrier anymore
Until recently, Linux (Most of the distros) was the only OS you could install over most of the devices and computers, with an X86 or ARM CPU architectures. But thanks to Android Open Source Project (AOSP) we've seen more and more devices and even computers running Android.
Not only Linux and Android, soon Windows 10 will be able to run on ARM processors and emulate traditional desktop (X86) applications. It even runs full Office applications, and if that's not enough, you can even run the full version of Adobe's Photoshop on top of ARM devices running Windows 10. So in the near future, Windows Universal Platform (UWP) will be installed on all kind of devices (Mobile, HoloLens, Xbox, Surface, IoT, etc).
Smartphones will replace your PC at work
There have been many hybrid devices from different manufacturers who tried to do that, transforming phones into tablets, and even to laptops, and there were even weirder "Frankenstein" devices In the past.
But today, thanks to Microsoft's Windows 10 Continuum, Canonical's Ubuntu convergence, and Jide's Remix Singularity (Unofficial Android OS), soon you'll be able to use your smartphone as a desktop computer! Not to mention, today we have so many Cloud applications (SaaS), Streaming services, and Web apps for work related tasks, that even if there's no native application for your platform, you can still get the job done.
Windows 10 Continuum
Android – Remix Singularity
Ubuntu Convergence
Guidelines for Designers and Developers:
A little nostalgia
I used to have Samsung's Smart Dock for my Galaxy phone about 4 years ago, but the UX was bad, as you can see in this guy's video: