Animations & Games I've created
Avi Barel's Animations Showreel – Yes, I've also produced many animations and production projects in the past (2000-2009):
Doritos Commercial – This is an Animated Commercial video I produced for Doritos Israel, back in 2007:
And this is a screenshot from Keshet TV's official website, back in 2007: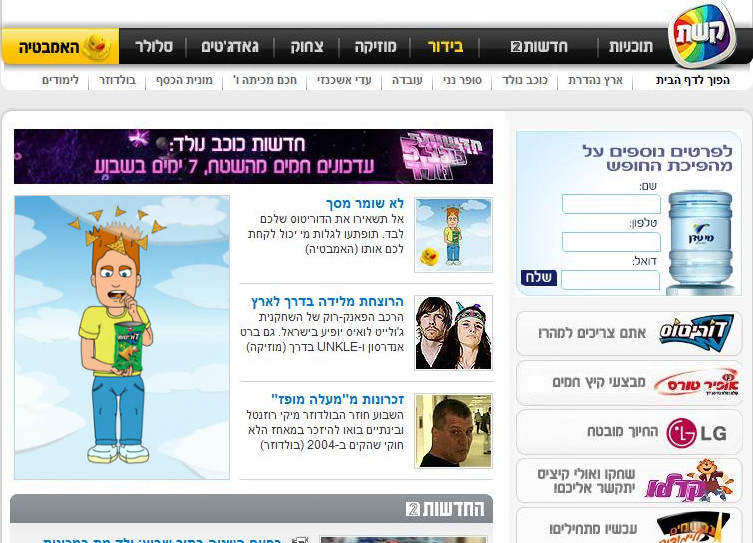 Discharged from the IDF – A short Animation clip I have dedicated in 2006-2007 to some of my friends who were discharged from the army:
The Publisher – A short clip that I've produced for "The Publisher" Online video game that I was working on with friends back in our High-school days:
"Don't waste your life!" – This is a short Anti-Drugs & Alcohol campaign clip I've made back in my High school days, to spread the message to all teenagers out there!
Games I have developed when I learned to code as a teenager
Ymeida Adventures – A game I have developed at IDF to practice my coding skills, Staring few of my team members and myself. This game was very popular at my unit in 2005.
Games that I've developed as a teenager (Ages 13-17). Most of them are in Flash, and since flash is not supported in today's web browsers, I had to upload a gameplay video:
These projects are a nostalgia for me, and they kinda show how I've started with my passion for Design and Development, and it reminds me why Left brain Vs. Right brain (Creative vs Analytic) is so important.
Looking back, it's so exciting to me that I actually managed to transform my childhood hobbies to a career, after connecting the dots between my skills and what I love to do! It's all about passions 🙂